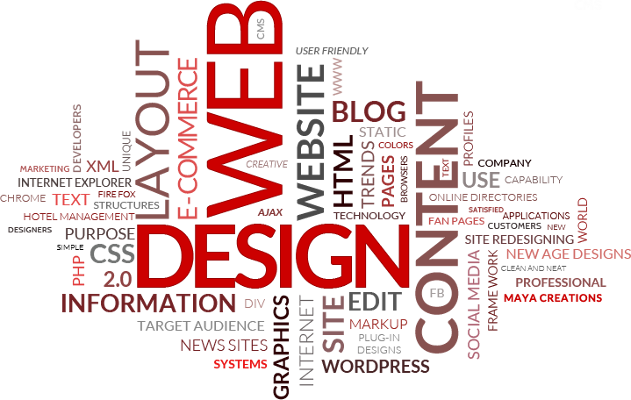 SERVICE COMMITMENT
At VISISPACE our goal is to provide you with a feature rich web site design and hosting platform options that are suited to your needs and budget requirements. We can assist you in configuring the design package and server options to most effectively achieve your objectives. Once you have signed up for an account with VISISPACE, get started with your domain, hosting and the configuration of your web site package, then complete your transaction and payment options. It's that easy! We will provide you with a questionnaire regarding your design objectives. Within 2-3 days you will be contacted at your convenience to clarify any remaining concerns. Your site will be completed within 4-6 weeks. With VISISPACE you own your site, control the design and options, have the ability to manage or have managed the site and are backed up by outstanding support.
SERVICE DEFINITIONS
See below for standard definitions of services offered. Should you require further assistance or have additional questions, please don't hesitate to contact us 24/7 for friendly and professional Business to Business assistance. We look forward to working with you!
Ad Words
Ad Words (Google Ad Words) is an advertising service by Google for businesses wanting to display ads on Google and its advertising network. The Ad Words program enables businesses to set a budget for advertising and only pay when people click the ads. The ad service is largely focused on keywords.
Analytics
Web analytics is the process of analyzing the behavior of visitors to a Web site. The use of Web analytics is to enable a business to attract more visitors, retain or attract new customers for goods or services, or to increase the dollar volume each customer spends. Ad Words can create relevant ads using keywords that people who search the Web using the Google search engine would use. The keyword, when searched for triggers your ad to be shown. Ad Words are the top ads that appear under the heading "Sponsored Links" found on the right-hand side or above Google search results. If your Ad Words ad is clicked on, Google search users are then directed to your website.
Bandwidth
Bandwidth is the amount of data that is requested from your website over time.
Content Development
Web content development is the process of researching, writing, gathering, organizing, and editing information for publication on web sites. Web site content may consist of prose, graphics, pictures, recordings, movies or other digital assets that could be distributed by a hypertext transfer protocol server, and viewed by a web browser.
Content and Copy Editing
Content editing is the practice of writing, proofing, fact checking, and possibly programming web pages. Copy editing generally involves proofing and fact checking. It may involve a small amount of rewriting for Internet sources, but usually does not include programming. Further the copyeditor may not read for content with the same scrutiny as the content editor does. The copyeditor is usually the final frontier of the writing process, the last person to examine material before it goes to print. The content editor may be more intimately involved in the entire process of writing and finalizing documents for your web site.
Content Management System
Also known as a CMS, the Content Management System is a backend tool for managing a site's content that separates content from the design and functionality of the site. Using a CMS generally makes it easier to change the design or function of a site independent of the site's content. It also (usually) makes it easier for content to be added to the site for people who aren't designers.
Control Panel (cPanel)
A control panel, in web hosting, is a web-based interface provided by the hosting company that allows customers to manage their various hosted services in a single place.
Dedicated Servers
A dedicated server is a Web server that is leased or owned outright. Dedicated servers provide you exclusive use of the Web server resources for your business.
Domain
The domain is the name by which a website is identified. The domain is associated with an IP address. Domains can be purchased with any combination of letters, hyphens (-), and numbers (though it can't start with a hyphen). Depending on the extension (.com, .net, .org, etc.), a domain can be anywhere up to 26 to 63 characters long.
E-Commerce
Short for electronic commerce. It's the buying and selling of goods online, through websites. Products sold through e-commerce can be physical products that require shipping, or digital products delivered electronically.
Favicon
Favicons are tiny (generally 16×16 pixels, though some are 32×32 pixels), customizable icons displayed in the web address bar in most browsers next to the web address. They're either 8-bit or 24-bit in color depth and are saved in either .ico, .gif or .png file formats.
Fixed Width Layout
A fixed width layout has a set width (generally defined in pixels) set by the designer. The width stays the same regardless of screen resolution, monitor size, or browser window size. It allows for minute adjustments to be made to a design that will stay consistent across browsers.
Keywords
In SEO, the keywords or keyword phrase is the phrase that the author is trying to target for search engines. Most of the time, you should focus on one keyword or keyword phrase per page. Keywords should represent the main point of a page. They are the words that someone would type into a search engine and find your page.
Meta Data
Meta data is the data contained in the header that offers information about the web page that a visitor is currently on. The information contained in the meta data isn't viewable on the web page (except in the source code). Meta data is contained within meta tags.
Meta Tag
A meta tag is an HTML tag used to include meta data within the header of your web page.
Optimization
Also called search engine optimization (SEO), website optimization is a phrase that describes the procedures used to optimize, or to design from scratch, a website to rank well in search engines. Website optimization includes processes such as adding relevant keyword and phrases on the website, editing meta tags, image tags, and optimizing other components of your website to ensure that it is accessible to a search engine and improve the overall chances that the website will be indexed by search engines.
Organic Search
An organic search is a search that generates results that were not paid advertisements. These results are a more accurate reflection of what web page browsing individuals may want when searching for a specific phrase, because they are generated by popularity and common usage. When applying SEO or search engine optimization you are attempting to adjust the content of the Web pages to rank well in the organic search results.
Plug-In
A plug-in is a bit of third party code that extends the capabilities of a website. It's most often used in conjunction with a CMS or blogging platform. Plug-ins are a way to extend the functionality of a website without having to redo the core coding of the site. Plug-ins can also refer to bits of third-party software installed within a computer program to increase its functionality.
S.E.O.
Short for "Search Engine Optimization." Refers to the design of a website for better ranking on search engines. This can be affected through techniques like site submission to major search engines, keyword aggregation, site code modification/optimization, link-building, injection of Google Analytics site-wide, and some content modification to accommodate selected keywords. Shopping Cart A shopping cart is a piece of software that acts as an online store's catalog and ordering process. Typically, a shopping cart is the interface between a company's Web site and its deeper infrastructure, allowing consumers to select merchandise; review what they have selected; make necessary modifications or additions; and purchase the merchandise.
Sitemap
A sitemap is a representation of the complete architecture of a website, usually in hierarchical fashion and based on the site's navigation.
Social Media
Internet-based software and interfaces that allow individuals to interact with one another, exchanging details about their lives such as biographical data, professional information, personal photos and up-to-the-minute thoughts. Businesses may take advantage of this method to reach out to customers, for example, by informing them of sales and offering them special coupons.
Sub Domain Name
A Sub Domain is a second website, with its own unique content, but there is no new domain name. Instead, you use an existing domain name and change the www to another name. The sub-domain name looks like forums.domain.com, help.domain.com, help2.domain.com (assuming you already host domain.com).
Web Server
A web server is a computer that has software installed and networking capabilities that allow it to host web site pages and make them available to internet users.
Widget
Widgets are various components that can be added to a site without having to write the code. Weather and stock tickers are two common examples of widgets.